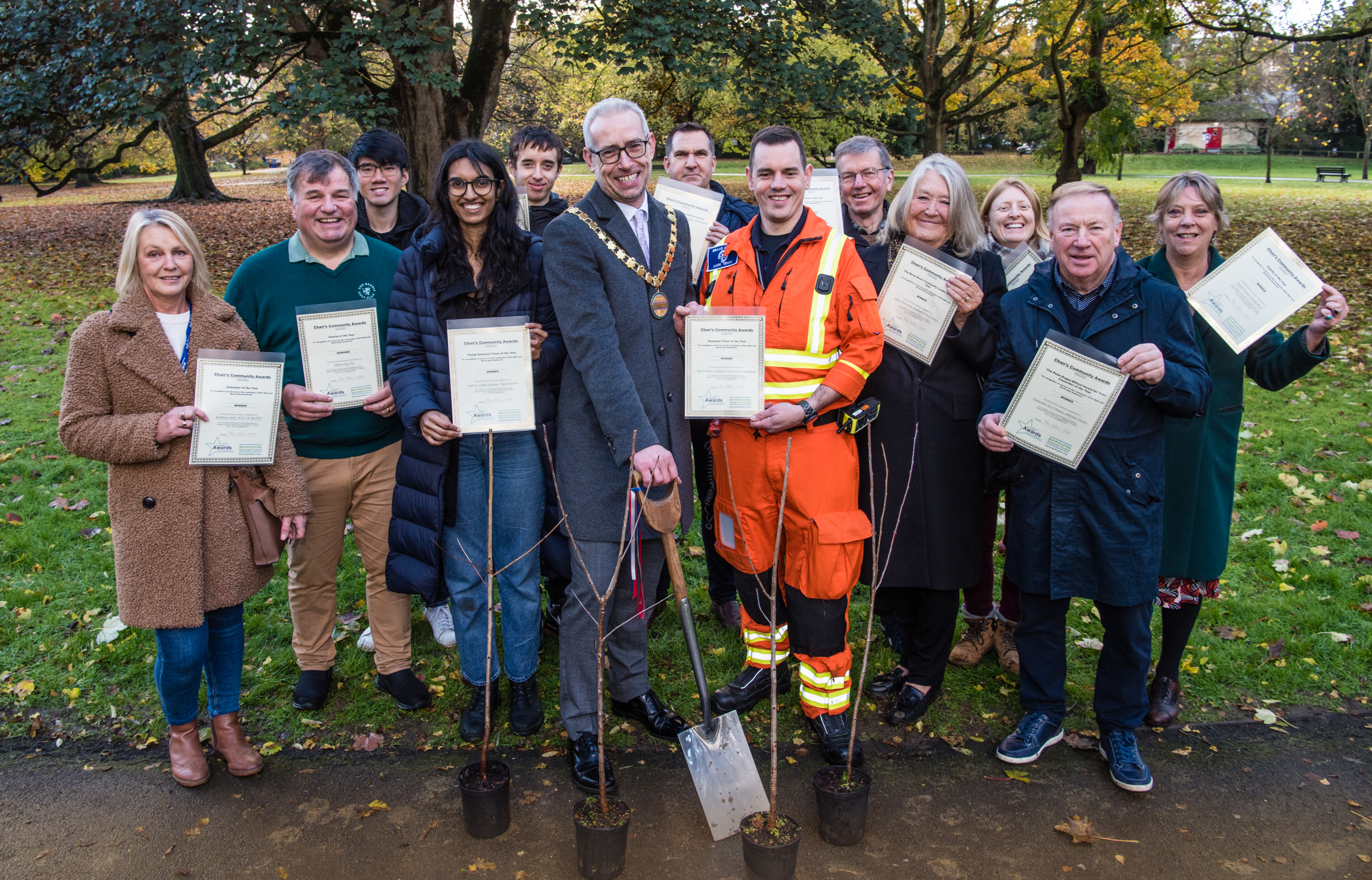 The winners of awards to recognise people who have made a positive contribution to their communities in Bath and North East Somerset have been revealed.
Twelve individuals and organisations were presented with a Community Award at a special ceremony at Henrietta Park in Bath (22nd November 2022).
The award includes seven blossom trees being planted for the winners that will help extend the green canopy across the district.
Bath & North East Somerset Council's Community Awards 2022/23 champion 'unsung heroes' who make a difference in their communities and support others.
The cherry trees were planted at Henrietta Park, which as they mature will host an impressive spring blossom display each year to enhance the site and provide a permanent central location to mark the winners' outstanding achievements.
A total of 60 nominations in seven categories were received for the awards, which this year included two new categories for town and parish councillors of the year.
Councillor Shaun Stephenson-McGall, Chair of the Council, who presented the awards, said: "It's inspiring to hear about the contribution all the nominees have made to their communities and there have been some striking tales of people who go above and beyond to support others. I'm delighted that this year there will be a lasting tribute to the winners in the form of these beautiful blossom trees, which not only mark their achievements but also contribute to tackling the climate emergency. Congratulations to the twelve winners and thank you to everyone who took the time to nominate your local hero."
The winners are:
The Beryl Dixon Community Leader of the Year
Winner – Penny McKissock, Southside Family Project
Volunteer of the Year
Joint Winner – David Musgrave, Oasis Pantry
Joint Winner – John Harvey, Mentoring Plus
Joint Winner – Kathleen Still, Age UK B&NES
Volunteer Team of the Year
Winner – Bravo Medics Volunteer Critical Care Consultants
Young Volunteer Team of the Year
Winner - Students' Union Nightline - Kashiv Mishra
Charity of the Year
Winner – Youth Connect South West
Green Business Leader
Winner - The Community Farm
Chairs Special Recognition Award for Service to the Community
Winner – SWALLOW
Outstanding Young Person
Winner – Will Lakey
The Peter Duppa-Miller Award for Town Councillor of the Year
Winner – Councillor Steve Plumley, Midsomer Norton.
The Peter Duppa-Miller Award for Parish Councillor of the Year
Winner – Councillor Robert Helland, South Stoke.
The Community Awards are organised by the council in partnership with:
The Student Community Partnership
HCRG Care Group
Bath and North East Somerset, Swindon, Wiltshire Integrated Care Board.
The Third Sector Group
Curo Housing